The new 17,000 sqm mass timber school building of the Glashütte Campus forms a vibrant focal point in the Ossenmoorpark and the garden city of Norderstedt in Northern Germany. Inspired by the educational aims and objectives of two merging schools, the new building is a reinterpretation of the "Kasseler model" of the late 1960s and early 1970s and creates an economically, socio- and ecologically sustainable place where learning, playing, exploring, and sports and leisure activities find a home.
The design of the new campus allows for the surrounding greenery to extend deep into school life. The landscape slopes down gently to create a protected sunken entrance to the school, marking the boundary of a new school yard with public play areas. As one enters through the building, the inner court opens up to a natural playground, it includes a bee meadow, a pond, an energy park with a wind turbine and solar system, an art garden and outdoor work spaces.
The majority of the new building will be constructed using a timber post and beam construction. This not only significantly reduces the amount of grey energy, but also drastically shortens the construction time. The load-bearing structure establishes an architectural rhythm that gives form and structure to the new building. The rest of the lightweight interior partitions are free from the main structure, to ensure flexibility and future changes of use.
The spatial programme of the two schools and their common functions are organised around the inner courtyard. This void provides daylight, serenity and remoteness for the classrooms arranged around it. It acts as an orientation device and forms the communal focal point that binds the two schools together.
From the park and schoolyard, the school's appearance is characterised by its open and horizontally structured façade. While the boundaries between inside and outside almost blur in the generous entrance hall with the cafeteria on the ground floor, the solar panels firmly enclose the classrooms located on the upper floors. Where the entrances are located, the solar panels are replaced with colourful metal panels, creating practical canopies and eccentric breaks in the grid. The roof structures needed for the building's installations and daylighting form equally playful exceptions and are reminiscent of the playful roofscape of the pre-modern city.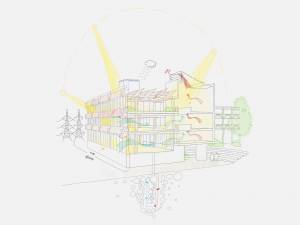 The new school will be carbon neutral – both in building construction and operation. Rooftop and façade-integrated solar panels will provide on-site renewable energy production of more than 400 MWh annually and act as external sunshading device. In the courtyard, the timber structure is extended to the outside, providing a support structure in which plants can grow up along the façade to promote biodiversity.
Following an open call in October 2019, Site Practice was invited as one of thirteen finalists to take part in the second stage of the two stage architectural design competition for a new school campus in Norderstedt, Northern Germany.


Client: Entwicklungsgesellshaft Norderstedt mbH
Architects: Site Practice
Landscape Designers: Topotek 1
Environmental Engineer: Transsolar KlimaEngineering